FEMALE


My name is Katie. I'm seventeen years old. I live in Indiana, where, as everyone knows, everything exciting happens. I live in a college town. We have cornfields AND coffee shops. I'm not going to stay for college, and someday I am going to live in New York City, but I am very happy here. I have wonderful friends, family, and teachers--I am surrounded by people who amaze me every day with their greatness.


Art is my passion. Art can be simultaneously be powerful and fun, painful and life-affirming. I love to admire the art and writing of others and also enjoy attempting to create art myself. I adore writing, photography, painting, theatre, drawing, collage, web-design...my favorite classes at school are my English and art classes. Art is what keeps me from exploding, it allows some of the good and bad to seep out in productive ways.


My favorite book is The Hours by Michael Cunningham. My second favorite is East of Eden by John Steinbeck. I've saved all my movie ticket stubs since the 7th grade. I'm sentimental and tend to save and collect things in general. I like talking about the weather. It's impossible for me to decide which season I love the most. I'm obsessed with Moulin Rouge. Typically I am not a TV-watcher, but I've recently discovered Cheers re-runs. Lilith is my favorite. I get chills when I watch musicals, and envy people with beautiful singing voices. I'm politically liberal and can hardly wait to register to vote. I'm a feminist, and by that I mean that I logically consider females equal to males and deserving of equal treatment. A less controversial term would be "humanist." People fascinate me.


I love God. I'm a Christian. I think acceptance is better than tolerance, because acceptance requires respect. Misunderstandings can be excused, but racism, hatred, homophobia, faith-based persecution, and sexism cannot. Every single person on earth was given something valuable to offer, and it's a shame that people are alienated due to attributes that were given to them as gifts, as natural. To dislike someone because of their skin color, or because they're homosexual, or because they worship differently from someone else is so disrespectful--I think of it as denying God's skill, denying the worth of one of God's creations. People should appreciate each other, it's pretty incredible that human beings even exist at all. Things could so easily be different for all of us.


Eventually I would like to become a published author and poet and an art teacher. I also want to have a family.


As cliché as it sounds, I try to live by the words "carpe diem." To summarize myself in one phrase, I am madly in love with life.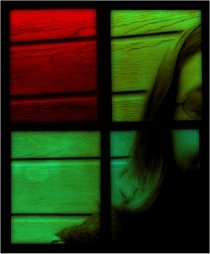 <<
FAVORITISM


HUMAN BEINGS
Mom. Dad. Becca. My friends. Mrs. G. Tom. Ms. F. Ian. Madame. Pastor Tim. Pastor Pat. Emily Dickinson. Sylvia Plath. Langston Hughes. Carl Sandburg. e. e. cummings. Nicole Kidman. Meryl Streep. Julianne Moore. Ewan McGregor. Tom Hanks. Julie Andrews. Catherine Zeta-Jones. Vincent van Gogh. Gerhard Richter. Toulouse Lautrec. Mary Cassatt. Gandhi. Martin Luther King, Jr. Maya Angelou. All the below-mentioned authors of prose and musicians.


BOOKS (novels & poetry)
The Hours by Michael Cunningham. East of Eden by John Steinbeck. Mrs. Dalloway by Virginia Woolf. Pride and Prejudice by Jane Austen. The Age of Innocence by Edith Wharton. White Oleander by Janet Fitch. The Bell Jar, Ariel, and The Colossus and Other Poems by Sylvia Plath. The Blind Assassin and The Handmaid's Tale by Margaret Atwood. Possession by A. S. Byatt. Jane Eyre by Charlotte Brontë. Almost anything written by Madeleine L'Engle, especially Certain Women, The Other Side of the Sun, and The Small Rain. The Joy Luck Club, The Hundred Secret Senses, and The Kitchen God's Wife by Amy Tan. The Good Earth by Pearl S. Buck. Fahrenheit 541 and The Martian Chronicles by Ray Bradbury. The Perks of Being a Wallflower by Stephen Chbosky. Chocolat by Joanne Harris. The Catcher in the Rye and Franny and Zooey by J.D. Salinger. A Confederacy of Dunces by John Kennedy Toole. Where the Heart Is by Billie Letts. To Kill a Mockingbird by Harper Lee. The Harry Potter Series by J.K. Rowling. Memoirs of a Geisha by Arthur Golden. On the Road by Jack Kerouac. Matilda and The Witches by Roald Dahl. Poetry Speaks by assorted.


FILMS
Moulin Rouge. Adaptation. The Sound of Music. The Hours. Chicago. Amélie. Catch Me If You Can. Possession. The Graduate. My Big Fat Greek Wedding. The American President. Chocolat. You've Got Mail. It Happened One Night. It's a Wonderful Life. What Dreams May Come.


PLAYS (dramas, comedies, and musicals)
The Secret Garden. Into the Woods. A Christmas Carol. Big Love. Cat on a Hot Tin Roof. Les Miserables. The Lion King. The Phantom of the Opera. Annie. Romeo and Juliet. A Midsummer Night's Dream. Proof. Urinetown. Noises Off. Sueno.


MUSIC
Patty Griffin. Dave Matthews Band. Zero 7. Sleater-Kinney. The Moulin Rouge soundtrack(s). Radiohead. The Strokes. Tonic. Blind Melon. Alanis Morissette. Simon and Garfunkel. The Beatles. Incubus. The Hives. The Vines. Weezer. Belle & Sebastian. Jimmy Eat World. Red Hot Chili Peppers. Seals and Crofts. Pete Yorn. Jars of Clay. Moby. Sublime. David Gray. Sarah McLachlan. Matchbox Twenty. REM. Third Eye Blind. Bela Fleck. The Get Up Kids. Lauryn Hill. Jill Scott. The Fugees. Natalie Merchant. Cake. PJ Harvey. Green Day.


FOOD
My mom's homemade cherry pie. Bread. Chocolate. Bran flakes cereal. Green grapes. Tomato soup and grilled cheese sandwiches. Heath Bar blizzards from Dairy Queen. Loaded baked potatos. Bagels. Sweet potato casserole. Strawberries. Turkey and dressing.


BEVERAGES
Skim milk. Iced cafe mocha. Vanilla latte. Hot chocolate. Dr. Pepper. Vanilla Coke. Sparkling grape juice. Silk Chocolate Soy Milk.


PASSIONS
My faith. Writing. Reading. Art (mainly photography, painting, collage, and some drawing.) Films. The weather/seasons. People. Life.